Flourishing Fitness, part of loveLife Generation was created to encourage and help young girls to get fit! The idea was created by Salma, a loveLife Generationer-
Looking at statistics, it was shown that only 38% of girls did moderate amount of exercise compared to 68% of boys. But this was about to change.
Flourishing Fitness came about due to some of the problems young girls have in society. Body image issues, weight issues and confidence issues.
Being a young female, I understand the issue that some young girls go through with confidence and exercising around both males and females. I decided to create an opportunity for a short period of time to get girls and only girls to exercise with a female personal trainer.
Anyway, I applied to get a small amount of funding from 'o2 Think Big' to get me started and fortunately  they did not disappoint me. This was a way to get them away from all that lazying around in front of the telly and laptop. Personally, I fell well developed technology is part to blame in keeping young people in the house as opposed to going out to play. I remember those days of playing 'BullDog' and 'POLO' on the side street with the children from the rest of the neighbourhood.
So, I started of my journey. I had to get a qualified female personal trainer, a place where the sessions could take place, timing, getting young girls/ladies involved. Luckily, I am part of  loveLife  and could do most of that.
I think its important that young girls get fit and active and have an awareness of nutrition and what benefits the health because, the knowledge will go far. Starting to take care of health now benefits later on in life and helps protect against diseases.
Starting Flourishing Fitness was also a way of letting the young girls share what knowledge they had of fitness and health.
I took part in a few sessions and I must say, the energetic sweaty, feeling at the end felt awesome because I knew I worked my muscles and mind.
It wasn't long before Flourishing Fitness was moved to the open streets in Beckton where the loveLife Generation BloomIn Hallywell street project took place.
Young girls who lived locally were intrigued by the boxing gloves and the fast skipping on the spot and joined in enthusiastically.
The huffing and panting that went on, I can only thank the trainer.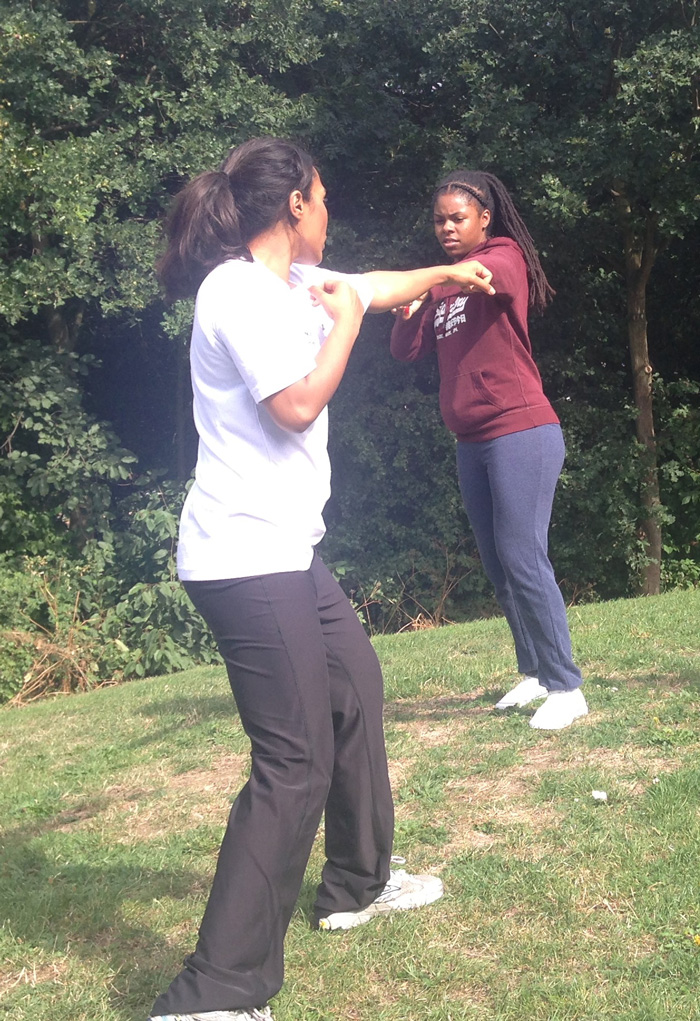 The thing is, young girls avoid joining the gym because there are males there and it's always the same old machines. With Flourishing Fitness, we had different activities, both indoors and outdoors so it allowed the young girls have a feel of exercise in two settings. It helped that they had a trainer who was also female and could relate to them but also show them that getting fit is not just about looking good but most importantly feeling good too.
I find it more fun outside and I'm sure the young girls did too. I could see some of them get all fired up and wanting to punch the boxing pads some more.
What made me want to start this project was the Olympics in 2012 being in London, in Stratford, not far from me. I felt that if young girls could come from around the world to perform in our town, then our girls could also perform in our town with a little bit of help. Flourishing Fitness was that little bit of help.
I wanted the young girls like me to feel like they were part of this legacy that London had.
I only hope that Flourishing Fitness taught them more about the benefits of a healthy lifestyle and that it has got them eager to look out for what they put in to their mouths and what exercise they participate in.
I know it has changed me.
By Salma Razia Khatun, A loveLife Generationer 🙂